In April, we held our first summit online, where we featured the authors of the proposed economic stimulus package. (view it here: https://www.youtube.com/watch?v=427ri2uw8Io). 
We are following this up with a discussion of our country's economic prospects with some of the Philippines's leading economists: Former BSP Deputy Governor Diwa Guinigundo, former NEDA Secretary Cielito Habito, and former SSS President Romulo Neri, with a keynote address by DOF ASec. Antonio Lambino. In partnership with CIBI Foundation, the webinar is entitled Economic Recovery: Is there light at the end of the tunnel? and we will be looking at how the COVID-19 pandemic has affected the economy and how the country can recover from its terrible effects. 
It will be held on August 28, 2020, Friday at 2:00pm via Facebook and YouTube Live. Register at https://sharephil.org/events/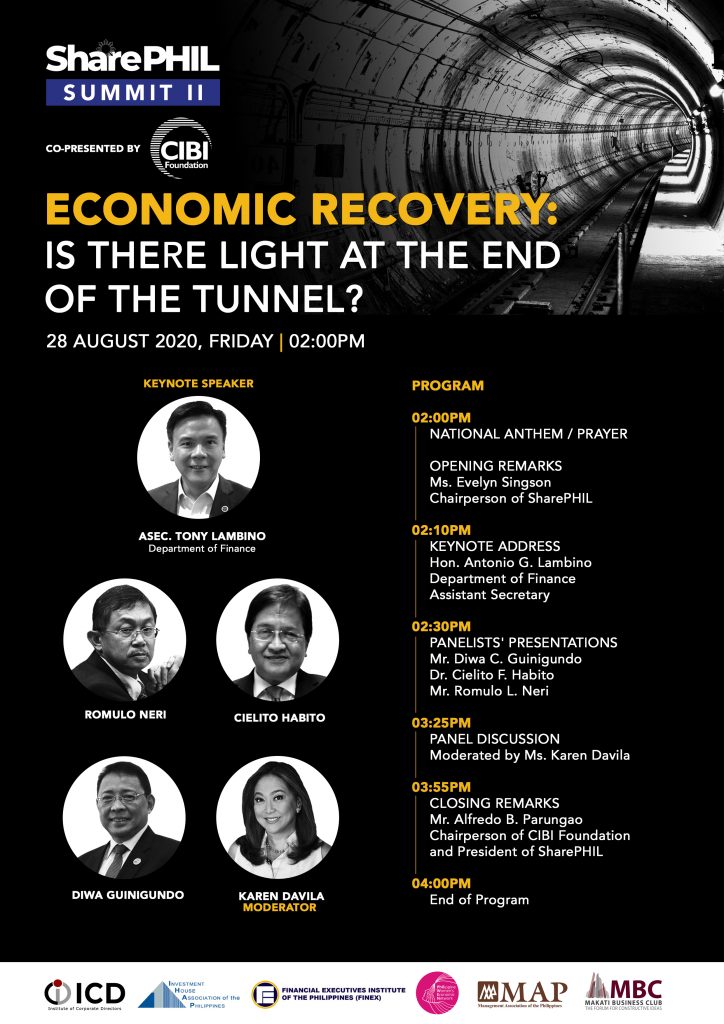 About the Speakers
Hon. Antonio G. Lambino II
Tony Lambino is Assistant Secretary and Acting Head of the Strategy, Economics, and Results Group of the Department of Finance. He leads a multi-disciplinary team working on the Comprehensive Tax Reform Program and other related economic reforms and serves as the head of communications and spokesperson of the department. 
Previously, he was Head of Public Policy at Ayala Corporation and Head of Communication at the International Rice Research Institute (IRRI). He was also Governance Specialist at the World Bank in Washington, D.C. 
Tony holds advanced degrees from the University of Pennsylvania and Harvard University, where he attended as a Fulbright Scholar. He received an A.B. in Communication, cum laude, from the Ateneo de Manila University and was one of 1999's Ten Outstanding Students of the Philippines.
Diwa C. Guinigundo
Diwa Guinigundo served the BSP for 41 years, handling monetary policy, treasury operations, loans and credit, asset management, currency management, regional operations and international operations.
He was Alternate Executive Director at the International Monetary Fund in Washington, DC in 2001-2003. Earlier, he was Head of Research at The SEACEN (Southeast Asian Central Banks) Centre in Kuala Lumpur in 1992-1994. Mr. Guinigundo pioneered inflation targeting as the BSP's analytical framework for monetary policy in 2002. In 2016, he was instrumental in introducing the interest rate corridor system as a tool for monetary management to keep inflation under control. He also championed the establishment of Credit Surety Funds all over the Philippines to empower micro, small and medium enterprises by enhancing their access to bank credit without collateral. He participated in various banking rehabilitation workouts.
Dep. Gov. Guinigundo graduated cum laude at the University of the Philippines (UP) School of Economics. He earned M.Sc.in Economics at the London School of Economics (LSE) as a scholar of the Central Bank of the Philippines.
Cielito F. Habito
Dr. Ciel Habito is a Professor of Economics at the Ateneo de Manila University, where he is also a Senior Fellow and former Director of the Ateneo Center for Economic Research and Development. He is Chairman of Brain Trust Inc. and Operation Compassion Philippines. His op-ed column "No Free Lunch" appears weekly in the Philippine Daily Inquirer. Dr. Habito served as NEDA Secretary under former President Fidel V. Ramos. In 1998, he was elected Chair of the Sixth Session of the United Nations Commission on Sustainable Development in New York. Before joining government, he was Professor and Chair at the Department of Economics of the University of the Philippines-Los Baños. He had also worked at the World Bank, Harvard University, Center for Southeast Asian Studies in Kyoto University, and Asian Development Bank Institute in Tokyo. Over the years, he has been tapped by multilateral and bilateral development agencies to advise the government of the Philippines and of other countries in Asia-Pacific and Latin America. A Fellow of the Institute for Corporate Directors, he has served on the boards of several large enterprises. He holds a Ph.D. and Master of Arts in Economics from Harvard University, Master of Economics from the University of New England (Australia), and Bachelor of Science in Agriculture (Major in Agricultural Economics), Summa cum Laude, from the University of the Philippines.
Romulo L. Neri
Romulo Neri is a Filipino educator and public servant. He held several high-ranking government positions under the administration of former President Gloria Arroyo where he concurrently served as Secretary of Socio-Economic Planning and Director-General of the National Economic and Development Authority, interim Secretary of the Department of Budget and Management, Chairperson of the Commission on Higher Education, until he was appointed President of the Social Security System.
He joined government as a planning coordinator at the Philippine National Oil Company and rose through the ranks, eventually becoming Director of the Congressional Budget and Planning Office under the House of Representatives where he provided advice to the leadership of the House on socio-economic issues, particularly on fiscal and monetary policies, development financing, and the budget of the national government.
He holds a Bachelor of Science degree in Business Administration from the University of the Philippines (Magna cum Laude and Class Valedictorian) and a Master's degree in Business Administration, Major in Finance and International Management from the University of California in Los Angeles.
Karen Davila
Karen Davila is a Young Global Leader of the World Economic Forum, a UNICEF Child Rights Award grand prize winner, and an award-winning broadcast journalist and producer. She is the host of ABS-CBN News Channel's Headstart with Karen Davila and the anchor of ABS-CBN's late-night newscast Bandila. She is also the host of current affairs show My Puhunan and radio anchor on DZMM's Pasada Sais Trenta with Vic Lima. Dávila has also won numerous awards both locally and internationally in her career, including two awards from the prestigious New York Festival and the 2008 Ten Outstanding Young Men Award for Broadcast Journalism.